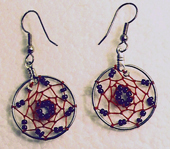 ITEM #0004 PLAIN DREAMCATCHER EARRINGS
SIZE AVAILABLE------RETAIL/WHOLESALE PRICE
3/4-INCH-------------$6.00/$5.00
1-1/4-INCH-----------$8.00/$7.00


These earrings are similar to ITEM #0003 but are and can be customized for a specific color theme.

PLEASE NOTE: DUE TO THE NATURE THAT ONE MAY WANT A SPECIFIC COLOR THEME FOR THESE EARRINGS ONE WILL HAVE TO REQUEST A PDF FILE ORDER FORM, AND/OR A CATALOG. PLEASE E-MAIL ME FOR ARRANGEMENTS.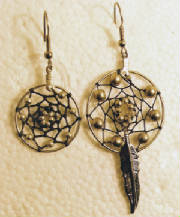 ITEM #0005

DREAMCATCHER EARRINGS WITH SILVER-TONED FEATHERS:
SIZE AVAILABLE------RETAIL PRICE-----WHOLESALE PRICE
3/4-INCH---------------------$8.00----------------$7.00 1-1/4-INCH----------------$10.00----------------$9.00

PLEASE NOTE: DUE TO THE NATURE THAT ONE MAY WANT A SPECIFIC COLOR THEME FOR THESE EARRINGS ONE WILL HAVE TO REQUEST A PDF FILE ORDER FORM, AND/OR A CATALOG. PLEASE E-MAIL ME FOR ARRANGEMENTS