SINCE MY BUSINESS NAME IS DREAMCATCHER VISIONS© HOW CAN I NOT HAVE DREAMCATCHERS?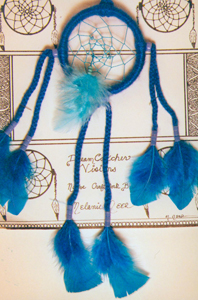 ITEM #2211

3" DREAMCATCHER

Shown here is my Turquoise blue DreamCatcher with a lighter blue webbing. My DreamCatchers consists of embroidery thread for the webbing part, and acrylic yarn for the "wrap-around" My DreamCatchers also have crow and tile beads, and feathers. This color scheme here is just one of many possibilities, and for a specific color theme, you will have to order separately either by requesting my color catalog that I can mail to you, and/or requesting the PDF File Order Form.

PRICE ITEM COST: $15.00 (Plus Shipping & Handling)
ITEM #2211
3-INCH BLUE DREAMCATCHER
THE COST OF THIS DREAMCATCHER IS $15.00 PLUS $7.95 FOR SHIPPING AND HANDLING FOR A TOTAL OF $22.95
ALL OF MY ITEMS ARE MAILED VIA PRIORITY MAIL AND CERTIFIED.

IF YOU ARE USING THIS PAYPAY LINK IT IS ONLY VALID FOR A ONE ITEM ORDER.
FOR OTHER COLOR SCHEMES OR MULTIPLE ORDERS PLEASE E-MAIL ME FOR OTHER ARRANGEMENTS.