This is my hand-beaded Native American pipe that I crafted. I did not make the pipe itself but I did all of the bead-work on it.
The style of bead-work is known as the Peyote or Guord stitch and is very time consuming as one adds only one bead at a time. This pipe took me a full month to do, and was a "present" to myself for my birthday some years ago.
ThE original pipe had rather "tacky" suede fringe and beads on it that I stripped off.
Looking back now at it..I wondered how in earth I was able to do this....LOL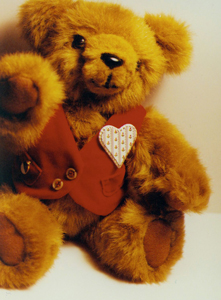 "BRAGI BEAR"



Meet "Bragi" Bear. While my Swift Bear uses pre-made teddy bears, this bear was completely hand-stitched by me. This was another birthday present to myself some years ago. I had gotten a teddy bear making kit, and had never made the bear. Then one day, decided to give it a go.

The bear was entirely hand-stitched, as well as his little red-velvet vest that I made.

Sometime in the future I would just love to make more of these bears and then will sell them.